HIRE JET SKI BENIDORM FROM 100€
We love being part of your vacation. With more than 30 years helping to fulfill the dreams of our clients, at Carlos Water Sports Benidorm we promote active vacations, complementing relaxation with fun.
Enjoy the rental of our jet ski Benidorm, you can tour our bay, visit the island of Benidorm or discover the Sierra Helada natural park.
We take FREE photographs to all our clients on our jet ski Benidorm excursions.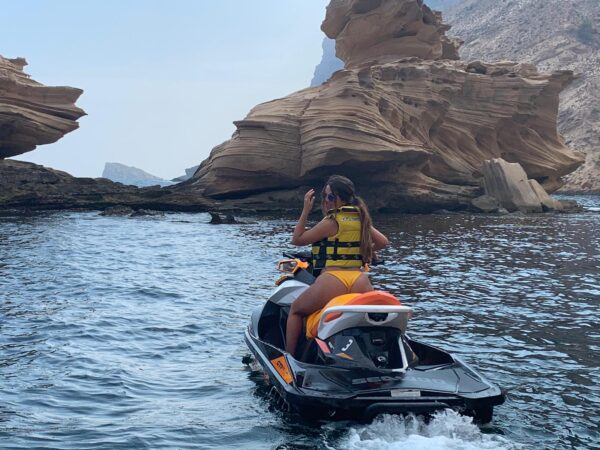 BOOK NOW A JET SKI BENIDORM EXCURSIONS
Frequently Asked Questions
What is the difference between a jet ski rental and a jet ski tour?
A jet ski rental allows you to ride around in a limited area for a set period of time. On a jet ski tour, our guides will personally escort you to some of the most famous attractions and landmarks in Benidorm. We have three tour packages that vary in duration and routes.
Do I need a license to ride a jet ski?
No, you do not need a license to ride a jet ski. Our instructors will brief you on all safety protocols prior to your tour.
Do I need to be an experienced jet ski rider?
No. Even if you've never ridden a jet ski before, our guided tours allow you to go at your own pace and get accustomed to riding a jet ski in Benidorm.
Can we switch drivers during the tour?
You can switch drivers on the same watercraft as long as water conditions are safe and both riders have signed the driver agreement.
How many people can ride on one jet ski?
Each jet ski in our fleet can fit up to three, however we allow up to two people per jet ski for your safety and convenience.
What is the minimum age to drive a jet ski?
You must be at least 18 years old to drive a jet ski. Passengers must have the authorization of a major to be able to go up without age limit, provided that the safety of the activity is complied with.
Is there a weight limit?
Each jet ski can safely hold up to 350 pounds.
How fast can I go?
Our jet skis go up to 55 mph. How fast ones goes can be dependent on the driver's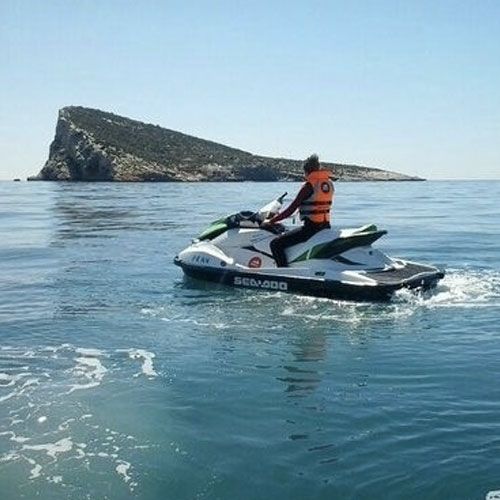 We have different alternatives for a jet ski excursion, depending on the starting point, duration and conditions, you can enjoy different formats.
Our team will accompany you, so you only have to worry. to enjoy one. one of the best experiences in Benidorm. Speed, adrenaline, fun and everything you need to complete a perfect vacation.
BEST DESTINATIONS FOR WATER MOTORCYCLE EXCURSIONS IN BENIDORM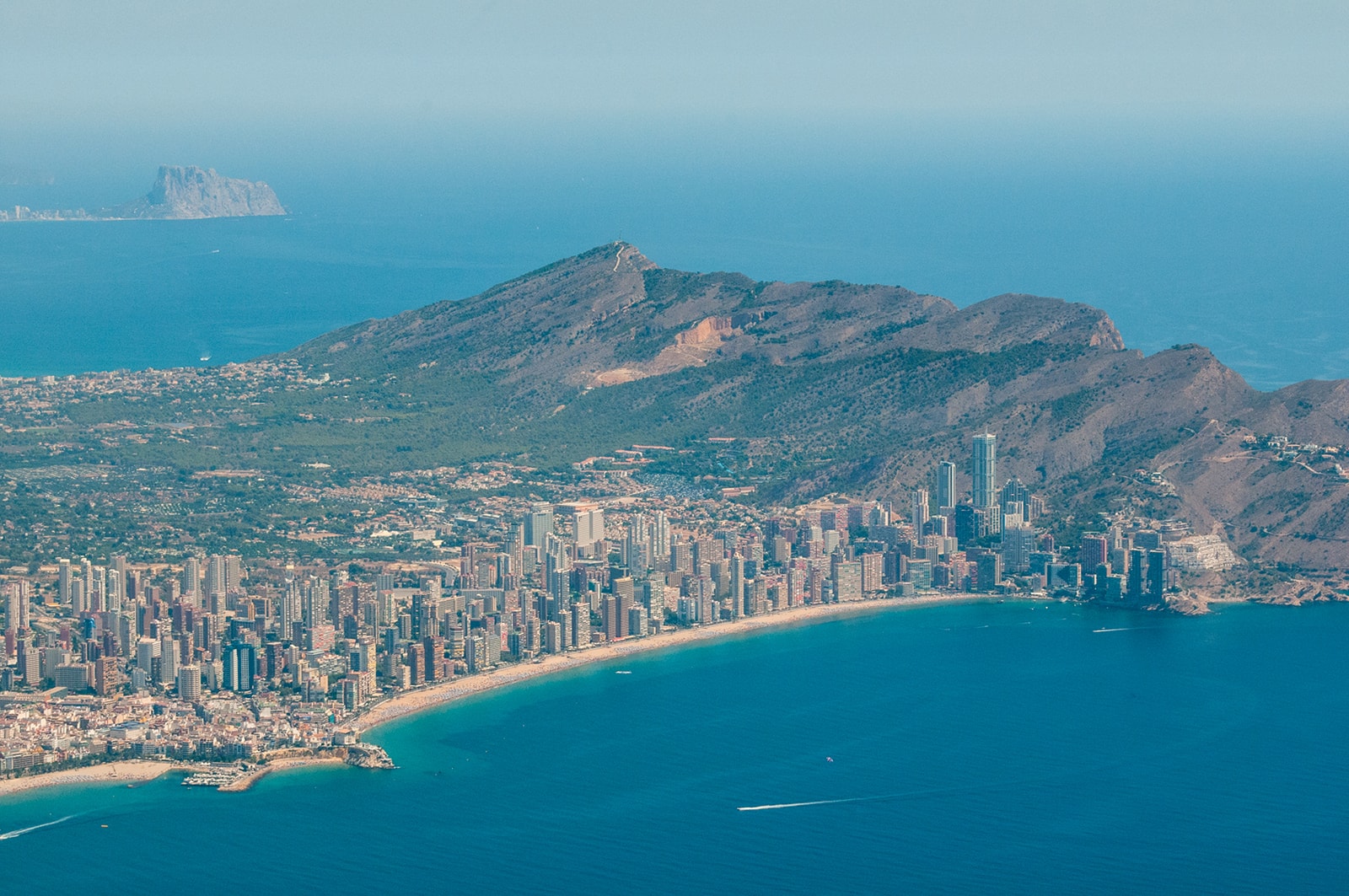 BENIDORM ISLAND EXCURSION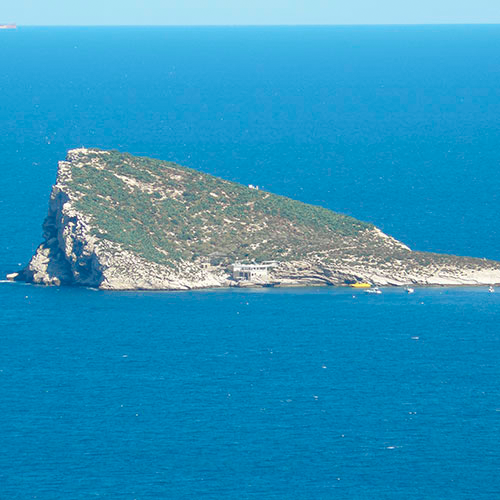 SIERRA HELADA EXCURSION IN BENIDORM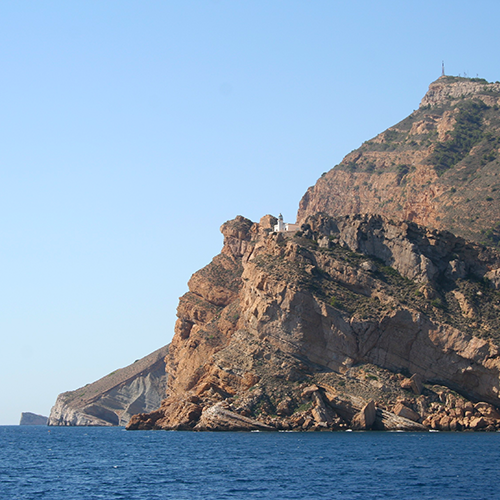 HIRE JET SKI IN BENIDORM
With Carlos Water Sports Benidorm you can hire different options. The preferred destinations of our clients, depending on the duration and the point of departure, can be, enjoy a quick tour of the bay of Benidorm, you can discover the island of Benidorm and bathe in its waters or discover the part of Benidorm more wild, direction Sierra Helada. If you choose the last option, you can visit the Sierra Helada caves, the crystalline pools or an exclusive cove with only access by the sea. Our jet skis will allow you to discover a different Benidorm.
Our excursions are characterized by being in open water, we do not do closed tours. In addition, you do not need a license to rent a jet ski in Benidorm since our excursions are accompanied by a monitor who will ensure your safety at all times and will teach you everything you need about jet skis.
EXCURSION ON JET SKI 30′ DURATION
Our experience tells us that 30 minutes at sea is plenty of time to enjoy a jet ski excursion in Benidorm to have a first contact with this fun activity.
You can rent the jet ski from any of our two locations in Benidorm.
EXCURSION ON JET SKI 30′ DURATION
More time, more fun and greater distance. The jet ski rental in Benidorm, with a 60-minute excursion, allows you to go further, combine several destinations and enjoy more relaxed in any of the idyllic corners that your monitor has prepared.
Do not forget to immortalize your memory with a unique photo in the corners of the area.
TESTIMONIALS OF JET SKI IN BENIDORM
Experiencia fantástica desde el primer momento. La reserva fue rápida y fácil, el monitor, Pedro, es una bestia. Nos explicó el manejo de la moto en un momento y el recorrido de la excursión es fantástico ya que vas desde Sierra Helada hasta el final de la playa de poniente (toda la costa de Benidorm). Sin duda una experiencia que estoy deseando repetir.
Si vienes a Benidorm no te puedes perder esta experiencia, Marisol bellísima persona y muy atenta en todo lo que necesites e Pedro (monitor) excelente profesional muy atento y explica las cosas muy bien e hace que tengas una experiencia inolvidable nosotros repetiremos sin duda al día siguiente . Gracias chicos ??
Una experiencia inolvidable, paisajes super bonitos y sintiendo la potencia de una buena moto de agua, y desde aquí un saludo a Pedro q ya lo sabe todo excelente persona y a el grupo en general GAASSS!!
The most amazing experience I have had! Staff were so friendly, warm and welcoming, the instructed was BRILLIANT!!!!! As a first time jet ski user he had patience with me as I learnt how to drive then allowed me to get on the back of his jet ski and when I say it was a once in a lifetime experience! I am not joking!!! A must do when at Benidorm! The views are spectacular and it is well worth every penny, defo will do it again when I return and thinking of experiencing the parasailing tomorrow !!
Carlos Water Sports Benidorm
Puerto de Benidorm, Muelle Industrial, Oficina 4 Benidorm, Alicante 03501
CIF: B53568366
Passeig de Colón, Muelle industrial, oficina 4, Puerto de Benidorm
Benidorm
,
Alicante
03501